Mosaic Art Glass Lamp - Enchanted Angel 1-Universal Heart Chakra

Clear Quartz Crystal, Smokey Amethyst and Flourite

See Enchanted Angel 2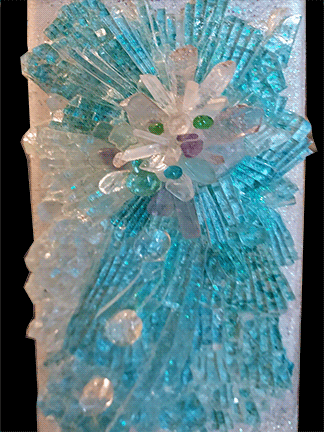 The lamp pictured is Sold ,
Order a similar one email Eloryia

Light up your heart, expand your consciousness, body, soul and free your Spirit! Radiate your Life and home with this expansive sparkling mosaic art lamp!
Created with clear quartz crystal, smoky amethyst and flourite. This luminous channeled design is infused with the high frequency of 528 hz
It is designed to be Ultra Healing Vibration to gracefully shift you into 5D Ascension. Let this Enchanted Angel of Light- Universal Heart Chakra bring you an expanded consciousness, peace of mind, and a happy heart!

It is created on a smooth hand blown frosted glass painted on all sides with hand painted and covered in mosaic glass design on the front only.

The bulb is inside with an open top to be able to change out the light and includes a 4 ft white cord with a toggle switch.

Each Mosaic Glass Mandala is to remind you that despite having had experiences that left you feeling broken; those experiences were for your highest good to help you raise your frequency by knowing all the shattered pieces can be redesigned within your heart and mind into a beautiful one of a kind unique person that is the magnificent you!

It is created on a smooth mirror backed glass hand painted and covered in mosaic glass design on the front only.

Lemurian Seed Crystal - Lemurian crystals are all wands. They conduct, amplify, and focus the Universal Life Force, augmenting the healing power of the healer.

They help strengthen your concentration and balance your emotions

Connection with the Divine feminine, connecting with the soul, access to knowledge & wisdom of Ancient

Smokey Amethyst-The combination of smokey quartz and amethyst will help one experience spiritual growth while being grounded and protected. Amethyst is a high vibrational Light encoded crystal that accesses the Angelic realm, and beyond. Amethyst offers high, loving energy filled with etheric Light, Smokey Quartz streams that information into your consciousness and ground it into Gaia. The effect allows you to reach to the next level of consciousness.
Flourite- will absorb negative energy and transmute it into positive energy, fluorite iis good for cany person experiencing spiritual or existential burnout.
It give you clarity of mind and It can raise your vibration and enhance your aura.
Turquoise: The turquoise ray is the Color of the Christed energy and the masculine compliment to the feminine color of magenta and associated with the Lady Ramelia, the feminine aspect of the Lord Ra and Mother Mary, twin flame of Archangel Raphael
Turquoise- the color of the Christ connected to the universal heart located in the middle of your chest.
Christ meaning global teacher of love. Higher dimensional communications.
Turquoise, a blend of the color blue for the higher truth and the color green for healing all aspects but especially the heart.
Like the colors pink, magenta, silver and gold they have not been referenced in the colors of the rainbow. That is because they are higher frequencies of the rainbow rays.
The color turquoise promotes calming, high energy, wisdom, serenity, wholeness, creativity, emotional balance, good luck, spiritual grounding, friendship, love, joy, tranquility, patience, intuition, and loyalty.
All the attributes that are necessary to aspire to a global mentor.
Cleaning:
Lightly dust with a feather duster. Do not spray with water or any other chemical cleaner

Caution: Tempered glass pieces can still have sharp edges, please handle with caution. Do not run your fingers over the glass and keep out of reach of children and pets.

Return to Mosaic Art Glass Lamp Collection