Mosaic Art Glass Lamp
Holiday Magical Poinsettias and Butterflies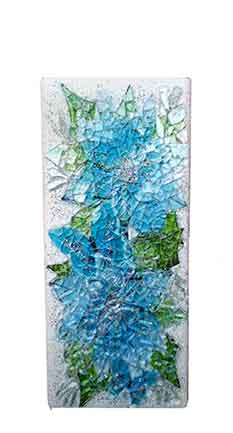 $89 + S&H
Click GG image if ordering individually

Return to Mosaic Art Glass Lamps Collection
Holiday Magical Poinsettias and Butterflies; is a custom one of a kind mosaic art glass piece .
It is 9x4 and is created on a smooth hand blown frosted glass painted on all sides with mosaic glass design on the front only.
You can enjoy this beautiful piece both in the day and at night when it provides a soft colorful light to fill your space with the very empowering essence of pointsettias and butterflies.
Spiritual Meaning and Energy Benefits:
Poinsettias are symbols of purity, good cheer and success!
The butterfly is a symbol of joyful change and the miracle of transformation.
The symbols combined will infuse your space with purity of a joyful, successful transformation.
What a lovely gift to bestow upon someone for the new year!
The bulb is inside with an open top to be able to change out the light and includes a 4 ft white cord with a toggle switch.
All mosaic art glass pieces are hand made custom designs on and with glass related products. Some may have sharp edges that may cause harm if not handled with caution and kept out of the reach of children. Light up your life and radiate your home with high frequency Energy Lamps
Return to Mosaic Art Glass Lamp Collection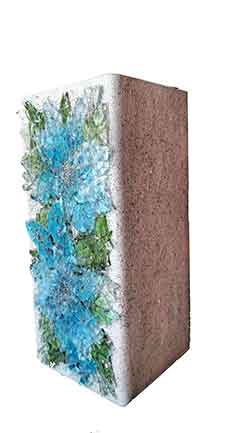 $59.95 + S&H
Click On GG image to order this item only
Click Add to Cart to continue shopping after order