Mosaic Art Glass - Ascension Key Series
Om Symbol Expansive Soul Consciousness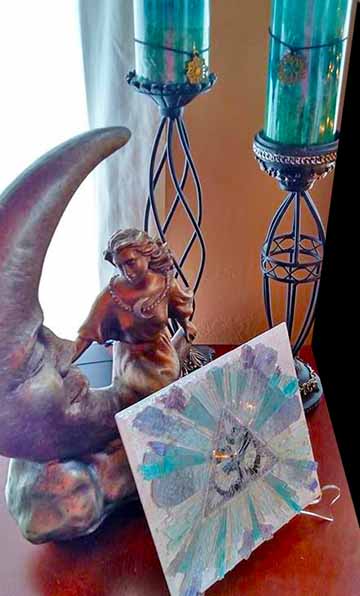 One of a kind, custom 8x8 with hand painting over metalic white-sparkle mirror backing to powerfully reflect back to you the energy of Om within your heart, mind, body, spirit and soul! It can lie flat or can stand on an acrylic plate holder.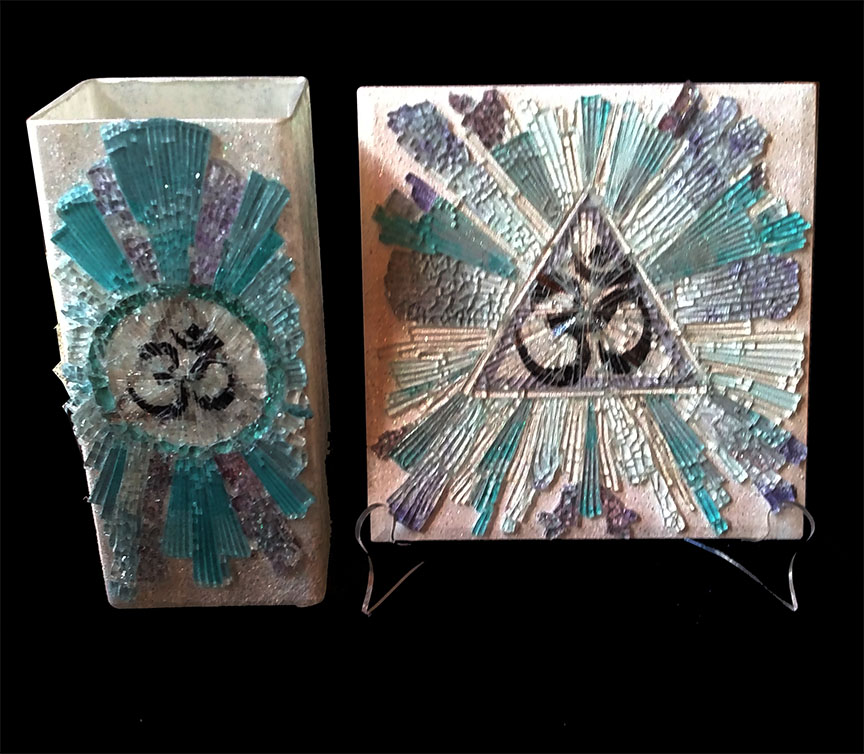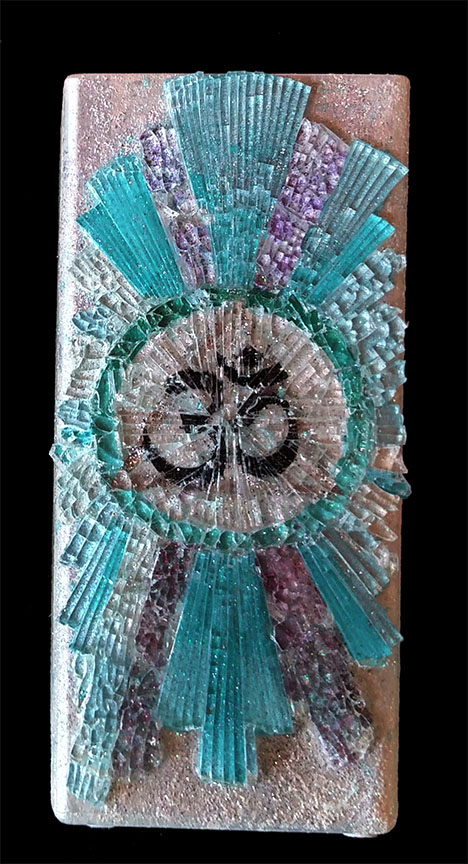 4x9 Mosaic Art Electric lamp
$135 + S&H


It is 9x4 and is created on a smooth hand blown frosted glass painted on all sides with hand painted and covered in mosaic glass design on the front only.

The bulb is inside with an open top to be able to change out the light and includes a 4 ft white cord with a toggle switch.

Light up your life and radiate your home with high frequency Energy Lamps

Energy Meaning:
OM is a sacred sound and a spiritual symbol in Hinduism, that signifies the essence of the ultimate reality, expansive consciousness

Om is one of the most important spiritual symbols. It refers to Atman (soul, self within) and Brahman (ultimate reality, entirety of the universe, truth, divine, supreme spirit, cosmic principles, knowledge.

This exquisite one of a kind mosaic energy art piece contains the symbol of Om expanding. It is infused with the OM frequency to help you expand your soul to realize your greatest potential and highest soul mission.

As seen in the images below the coloring shifts as the light hits it.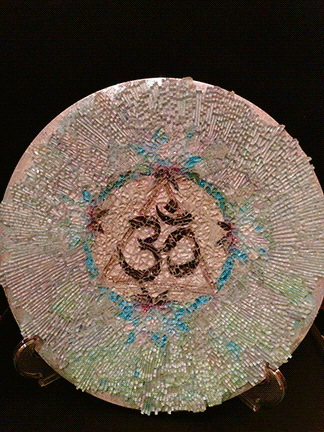 Sold
This Om Symbol Table Top Mosaic Glass Art piece is 13 " round created on a mirror backing and is displayed on a frosted table easel or may be place flat. The Om is a symbol of expansive soul consciousness and this sparkling beauty not only displays the temple of beauty with the triangle within a circle; but it also has four lotus flowers above, below and on either side representing the soul consciousness expanding out in the four directions.

This custom piece is sold yet you can order one similar. The Om symbol with triangle within a circle surrounded by 4 lotus flowers representing the four directions will be the same. The glass overlay will be a bit different.



Return to Mosaic Glass Art Lamp Collection

Return to Mosaic Glass Art Table Top Decor Collection